Dental Marketing - Our Approach
How to effectively market your dental practice
Dental practice marketing is much more than just advertising. Whereas advertising largely relies on creating content that promotes a product or service, marketing is the process of creating new dental patients, keeping current patients, and turning those patients into raving fans.
Our clients come to us for help with targeting and attracting their target patients though advertising. Our goal is to help each and every one of them maximize their profits by maximizing the efficiency of every dollar they spend on marketing.
But first, in order to get the most out of the money you spend on marketing, a marketing plan must be in place.
NEED HELP WRITING YOUR CONTENT?
Contact us for a FREE 15 minute consultation!
Step 1: Identify your target audience
The foundation of a good marketing plan is accurately defining the target audience. When you understand the group or groups of people who are most likely to have a long relationship with your business, then your marketing dollars will go the furthest resulting in the highest return on investment.
In order to define your target audience, start by looking at your current patient list and identify a handful of your best patients. Then create profiles of those patients identifying factors that make them ideal patients. Age, gender, marital status, family status, employment status, income level, location, and hobbies should all be considered. You should end up with 2-4 unique profiles that can now be used to target new patients that would be a good fit for your practice.
Targeting a specific audience will help you to better allocate your resources. Evaluating which audiences are most likely to engage with you and stay engaged will reduce the amount of money spent on individuals who are less likely to resonate with your business or your brand.
Step 2: Create messaging that attracts new patients to your practice
Each target audience will respond differently to different types of messaging. For instance, moms of underage children that also make decisions for their entire families will likely require separate messaging than young, professional adults who may be candidates for cosmetic dentistry, or older individuals who may be in need of restorative dentistry or implants. Tailoring your approach for each audience that you are targeting is key to running an effective marketing campaign and it's important to always consider the individual audiences that you are attempting to attract.
The best messaging and branding will speak more about your clientele than it will about you or your practice. In many cases, consumers are less attracted to what your business does as a whole and more attracted to what your business can do for them. Ideally, the messaging you employ will become the messaging your patients use to tell their friends and families why they should come to your practice.
Effective messaging will ensure that your audience understands:
The value that you and your services provide
What differentiates your office from other dental practices
What area, or areas, of dentistry your practice specializes in
How your staff shares in your practice's mission
The challenges your patients may have that you can help solve
Why people like them choose your practice
Step 3: Decide which forms of advertising to use
Technological advances have created an incredible variety of ways to reach your target audience. Choosing the right media sources can be a difficult. At Omni Premier, we keep two goals in mind when helping a practice decide on the advertising sources they want to use:
What media source, or sources, will be most effective considering the target audience they want to reach
Which media source, or sources, will provide the most sustainable return on investment
Digital Marketing
Digital marketing largely consists of four main components: website optimization, search engine optimization, local search optimization and pay-per-click marketing. In order to sustain and implement a successful digital marketing campaign, it's important to address all four of these components if you want to create a comprehensive digital marketing strategy. Beyond these, it is also crucial to consider social media ads and building a social media network if you want to maximize the impact of your digital marketing strategy.
Website
Almost all forms of media today will, or at least should, eventually lead to your dental practice's website. Your website should be the funnel for almost all other forms of advertising, and if the budget allows, we recommend that you build your foundation upon a custom-built website. Depending on the forms of advertising you intend to do as well as your budget, you may elect to go with a lower cost template site. Regardless, it's imperative that you at least have a fast loading website in order to keep people from leaving your site before it loads on their devices, particularly mobile devices. Since more than 60% of all search traffic currently comes from mobile devices, it's critical that your site loads quickly, providing a seamless experience for all users. Ready for a website that works FOR you? We can design a website that converts!
Search Engine Optimization (SEO)
Search engine optimization, commonly known as SEO, is the process of optimizing your website in order to achieve a higher rank on search engines such as Bing, Yahoo and Google. At a minimum, all websites should be optimized to rank well for branded keywords such as the service area, as well as the names of the practice and its doctors.
Optimizing your site to rank for relative keywords that people may search for when seeking out your services or expertise should also be taken into consideration. Careful attention should be given to the actual words you are trying to rank for, the level of competition for those keywords, the volume of searches for those keywords and the likelihood of success for each keyword.
SEO budget requirements cans vary but budgets typically start in the $500 range and go up from there. Keep mind that SEO does not yield immediate results, so if you desire to see results in a short timeframe, you may want to consider launching a pay-per-click marketing campaign. SEO doesn't have to be scary. Learn more about what it takes to be successful.
Pay-Per-Click Marketing
Pay-per-click (PPC) marketing should be considered by anyone who may be hoping to capitalize on the billions of internet searches that occur every day. Compared to other methods of digital marketing, pay-per-click marketing has significant benefits and comes with few downsides. Making pay-per-click work for you requires knowing what you're willing to pay in order to acquire a new patient or customer. Pay-per-click marketing on Google, Bing and Yahoo allow us to target specific phrases and keywords in order to advertise to individuals who search for them, putting you in direct control of the advertising of your products and services by only targeting keywords that people use when they looking for you or services that your business offers. Call tracking and form tracking also allow you to know which keywords deliver that most patient conversions as well as exactly what each conversion costs.
The effectiveness of pay-per-click campaigns will vary based on the knowledge, skill, and integrity of the people or organization used to manage it. While it's not impossible for a practice to create and manage their own PPC campaigns, in order to achieve the best results, seeking the assistance of an experience digital marketing agency is recommended. Make sure you're maximizing every penny. Learn more about Pay Per Click advertising.
Local Search (Maps)
For most practices, we strongly recommend investing significant resources into local search, particularly the Google Map Pack. The Google Map Pack, otherwise known as the Google Local Pack, is the component of Google search that includes maps and reviews. Local search optimization will help you reach searchers who are near your organization. Optimizing your local search requires a great deal of knowledge and dedication, so we strongly recommend investing resources into bolstering your local search presence because it creates a marketing loop, meaning for every new consumer that engages with your company and leaves a review, the more Google will show your profile. Learn more about Local Marketing
Reputation Management
We strongly believe in makings reputation management a part of your marketing plan. Your reputation can fuel your website rankings since a well-standing Google My Business profile can make the phones ring more. We consider reputation management to be one of the most critical tactics to market your practice. Take control of your online reputation today!
Social Media Ads

Social media ads can be a great way to get your branding and messaging in front of a large number of people for a very low cost. Furthermore, social media ads can be particularly useful as they can both build your brand as well as inspire an instant response. Like pay-per-click marketing, social media ads will be shown based on your total budget, the higher the budget, the more likely your ads will show and vice versa. Social media ad budgets can vary, but we recommend that each of our clients set aside a small budget at the very least. While some organizations can spend tens of thousands, if not, millions of dollars, you would be surprised at what as little as fifty dollars can produce.
Traditional Marketing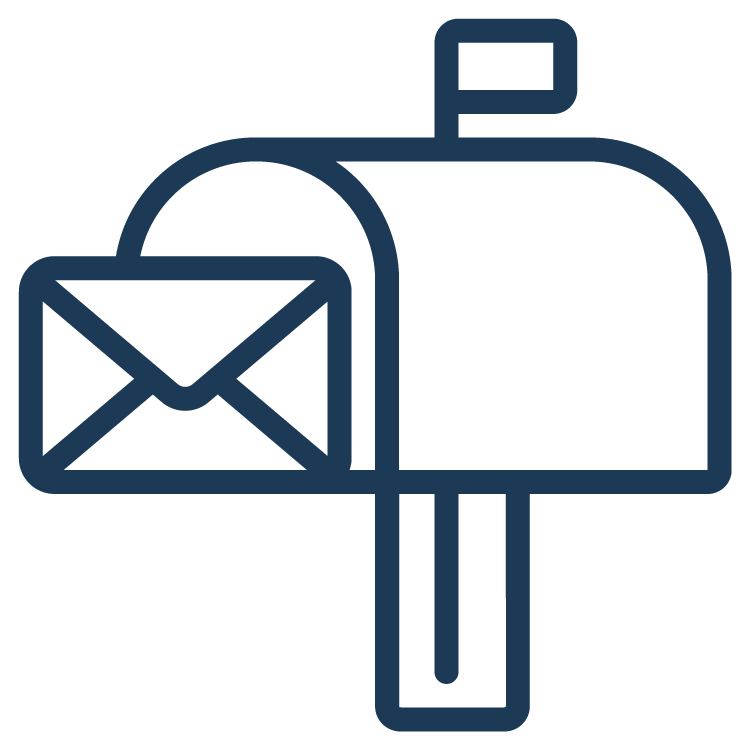 Postcards and Mailers
Postcards and mailers can be an effective way to reach potential new patients and can be an excellent way to stay in front of existing patients. Strategy is critical and effectiveness can easily be lost by sending mailers to oversaturated demographics, so it's important to keep your target audience in mind as you develop and implement your postcard or mailer-centric marketing plan. An experienced marketing company will have proven strategies to significantly reduce the cost for each mailer. See what a mail campaign can do for your business.
Radio, TV, Print and Billboard Advertising
All four of these mediums are very much alive and well, however, cost and overreach can be a factor. Running radio and broadcast TV ads to an entire city or county can also be wasteful due to distance. Cable advertising can do well targeting specific area and towns, increasing efficiency when compared to broadcast and satellite-based advertising.
Billboards in rural areas can also deliver great results over a long period of time. While instant responses won't be as solid as it could be on digital advertising, the long-term branding presence can pay off for those who are patient enough to wait.
Community Engagement
In our opinion, being involved in the community and delivering your messaging in person is one the best ways to advertise your services. At the end of the day, your business is an interpersonal endeavor and your marketing should be, too. Having a presence in the community gives people an opportunity to know you on a deeper level that other forms of advertising could never do.
We love to get creative and personal with different forms of community engagement. Let's talk about your practice.
Centers of Influence
Like community engagement, networking with centers of influence can really pay off. There are people in every community that are close to those who need your services and finding other healthcare professionals with whom you can mutually be an asset will drive business to your practice. Building the right relationships can bring a consistent flow of patients who will already have some trust in you
Step 4: Effective Lead Capture
If you want to maximize your marketing while minimizing advertising costs, it's critical that you have a system in place to track the traffic from those who come into contact with your brand. An effective method of capturing leads is using your website to offer discounts or specials that can be emailed to potential patients. You can also secure leads by requiring a sign up for any type of giveaway. Always be mindful of the immense value that having your own database of people to advertise directly to can bring to your business. Advertising to your own audience gives you the ability to advertise for nearly free to an audience that is already familiar with you. Creating a resource such as this takes time, but your future business will greatly appreciate starting this practice sooner rather than later.
Ready to maximize your marketing dollars?
Contact us for a FREE 15 minute consultation!
Not every lead will turn into a patient immediately. These leads are called "warm leads." It's important to stay top of mind with your warm leads so that when a lead needs your services, they reach out to your practice. There are multiple tools you can use to keep in front of people: newsletter, social media, and physical mail are all simple and cost-effective ways to remind people about your business. That said, this list is hardly exhaustive as there are endless ways to stay in front of your target audience, just make it priority in your plan.
Step 6: Develop a New Patient Conversion Strategy
While you are in the process of developing a solid list of potential patients and referrals, it would be wise to also consider the strategy you would like to employ for converting individuals from followers of you and your practice into actual patients. While there are many ways this can be accomplished, one of the easiest is through special offers and promotions.
Being a "discount" dentist is never something we recommend, however, from time to time, creating engaging offers in order to motivate your target audience can be immensely effective.
The more creative you are, the less you need to give away in order to captivate the attention of a potential patient. As such, you should try to think of offers that encourage and promote long term relationships between your practice and members of its target audience. For example, rather than outright offering free or discounted teeth whitening services, consider offering free or discounted whitening when someone brings a friend or spouse with them. Or perhaps extend promotions that are only valid during your hard to fill timeslots, like between 2 and 3PM when dental practices are typically less busy than they are at any other part of the day. Offering a discount to individuals who come in during those slower periods can motivate someone to schedule an appointment while also helping your office stay productive.
When creating these special offers or promotions, make sure that they include time limitations or some degree of exclusivity, this will help to overcome procrastination by motivating current or potential patients to make a decision.
Step 7: Creating a World-Class Experience
Marketing that runs on its own is the dream for any practice. That invaluable word-of-mouth referral system starts with providing an exceptional standard of service to your patients. Ensuring that your practice holds itself to a high standard of service will help drive referrals, increase patient lifetime value and make marketing your practice so much easier. At Omni Premier, we work to help our clients develop this experience without breaking the bank. Simple changes such as building rapport with patients and greeting patients with friendliness and enthusiasm are free and can make all the difference. Consistently extending a standout experience to clients is a largely free policy that pays dividends.
Step 8: Increase Patient Lifetime Value
Increasing patent lifetime value goes far beyond case acceptance. While case acceptance is important, it is also something that is achieved through a combination of patient experience, follow up, internal marketing, reputation management, and word-of-mouth referrals.
Being aware of this metric is immensely important because increasing patient lifetime value will, in turn, decrease the amount of money needed to be spent on advertising in order to bring in the same amount of profit.
Your best customer is the one you already have, so strive to make sure that each of your patients is aware of as many services, products and solutions that you offer as possible. This all hinges on a concept called "patient awareness," which relates to the amount of knowledge that your patients possess about your practice as well as the services or products that it offers. A high degree of patient awareness is strongly associated with patient retention as it implies that individuals have a firm understanding of what your practice can do for them, ensuring that your practice comes to mind should they find themselves in need of any services that it may offer. Additionally, a client that is highly aware of your practice's offerings will be more likely to recommend your practice to someone they know who may be in search of a service that your office offers.
Increasing Patient Lifetime Value by Bolstering Patient Awareness
 A simple method of boosting patient awareness is by creating brochures or other informational materials that current or potential patients can refer to before or after they leave your office. You may also want to consider creating videos to send out to patients in order to follow up explaining why they need to consider having their treatment plans started sooner rather than later. Stemming from that, you could also add flat screens that feature these or other informational videos or slideshows to your work, check-in or waiting areas in order to further educate your clients.
Boosting Case Acceptance
The more interactions you have with a patient, the higher case acceptance will be. Some ways you can increase those interactions are by:
Creating a newsletter to stay in front of people so they never forget you
Sending personalized birthday cards and holiday cards

Everyone loves a birthday card, so why not send one? Building relationships and trust takes effort and small gestures can pay dividends down the road.

Keeping in touch after patients part ways with your practice:

Find out why patients leave and try stick with them afterwards. Keep them on your newsletter and continue to send them birthday cards in order to maintain a relationship.
If they left due to their insurance changing, provide information regarding your in-house saving plan. You may even want to call in 11 months in case their insurance changed again and to remind them of your in-house saving plan.
Step 9: Inspire and Curate Referrals
You may be doing well with referrals at the moment but if you don't have a strategy in place for maintaining your influx of them, you are missing out. Luckily, there's a variety of ways that you can accomplish this for your practice.
Obtaining Referrals Will Serve You Well for Years to Come
The most effective way to obtain more referrals is also one of the most straightforward: just ask for them. It's very simple to ask every patient to keep you in mind for anyone they know who would appreciate your services and creating a world-class experience makes that so much easier! If people are unsure of you and your level of service expect it to be hard to ask for them. Inspiring patients to refer your practice may result in the creation of a string of referrals where previously referred patients become satisfied referrers of your practice, improving your bottom line in the process.
Compensate Your Staff
Adding new patients to your practice means more work for your staff. While more production for you may mean higher net income, for a poorly compensated staff, it just means more work. Who wants to do more work for the same pay? Consider implementing a compensation plan that can reward your staff for helping you build your client base.
Never bribe anyone for a referral, instead, thank people for them. If you're telling patients you will give them a $50 credit for any referral, you're also telling them that that's how much they, as well as their friends and family, are worth to your practice. In the mind of the consumer, they see a $1200 crown as only being worth fifty dollars when you associate a dollar amount with their referrals. Focus more on patient experience and providing the best level of service possible in order to inspire honest, sincere referrals.
At the same time, acknowledge your patients when they do refer someone to your practice. Call them and say thanks, drop a thank you card in the mail with a gift card in it, or better yet, send flowers to their office so that everyone they work with can be exposed to you and your practice.
Keep Reputation Management in Mind
Even with a referral from a friend or family member, people are still likely to check your online reviews. As such, you need a solid plan to bolster or maintain your online reputation in order to prevent loss. By using a reputation management tool, you could curate positive reviews while getting to the bottom of whatever is leading patients to leave negative ones.
Ready to change your approach to marketing for the better?
If you've decided that it's time to implement a professionally conducted marketing campaign for your dental or healthcare practice, consider enlisting the services of Omni Premier Digital Marketing. Our team of specialists can do it all, from constructing a captivating site for your practice to developing SEO strategies to improve your rankings on Google and other search engines.
Maybe neither of these things are of concern to you but you would like to improve your practice's online reputation? If that's the case, you should know that we offer reputation management services through which you may increase your business's positive reviews, enticing new patients to select your practice over your competitors.
Our digital marketing strategists will work with you to create a customized marketing plan that will captivate your target audience and improve any aspects of your site or marketing approach that may need attention.
For more information, contact us online or call (720) 549-9222 to speak with an expert.