Ready to Grow Your Practice with our Plastic Surgery Marketing Team?
We partner with plastic surgeons to build strategic, plan-based plastic surgery marketing strategies that will put your practice on a path towards success.

Your Plastic Surgery Marketing Experts
OMNI Premier Marketing is a full-service plastic surgery website design and development agency that offers all services you need to succeed online. We offer web design, SEO, social media, print design, and promotional services.
We use proven plastic surgery marketing strategies to put your practice on a path towards success! Our goal is to help plastic surgeons gain more patients by ranking their websites on Google. By targeting specific keywords related to the surgeries you offer, we get you more traffic, higher conversion rates, and quality leads. The result is increased visibility for your practice which means an increase in revenue!
Plastic Surgeon
Website Design and Development
First impressions happen online. Often these first glances are the only impression your practice may present to patients looking for cosmetic procedures in your office. The first step in bringing in new patients is building a website that outshines the competition.
Once you have approved the design, we start your customized, hand-coded website. Our process ensures you always have the freedom to access your site if you ever need to make changes.
Plastic Surgeon
Content Creation
The only effective way to optimize your website plastic surgery search terms is by incorporating top-notch content into your website.
Our team of writers creates highly optimized content that ranks on Google, getting you in front of future clients.
We have been marketing plastic surgeons and cosmetic procedures for over 12 years! Let our experience become your experience.
We help medical practices stand out in their market.
Successful plastic surgery marketing
begins by identifying your niche target audience.
SEO for Plastic Surgery
Related Keywords
One of the best ways to rank plastic surgery practice on Google is by taking advantage of search engine optimization (SEO). Plastic surgeons who prioritize SEO typically enjoy greater visibility online. Higher visibility brings more traffic to your website, increasing your number of new patient leads.
As Google Certified Ad Partners, we understand what is required to rank your website for the terms you want. Let our team get you the return on investment you deserve!
We are an award-winning, full-service plastic surgeon marketing agency. Through our holistic SEO solutions, we will raise your website to the top of search engine rankings.
OMNI Premier Marketing Is a Google Certified Partner
Google's powerful advertising platform provides access to billions of monthly internet searches. With Google AdWords, advertisers can reach people searching for plastic surgery keywords in a matter of seconds.
OMNI Premier Marketing is a certified Google Partner specializing in search engine optimization (SEO) and pay-per-click management services for plastic surgeon websites.
Let us create a custom campaign for your practice and start bringing in the patients you desire.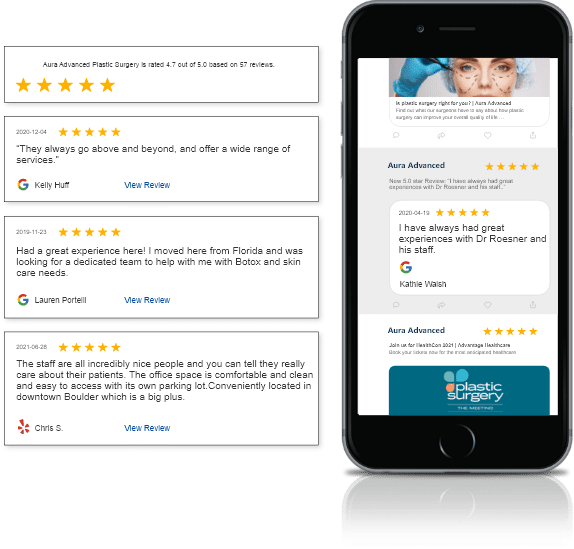 Plastic Surgeon Social
Media Management
Social Media Marketing & Social media have become one of the best ways for plastic surgeons to connect with their patients, increase visibility, drive traffic to their website, and convert new patient leads. Plastic surgeon social media presence starts here! Work with our team to implement a plan that works for you.
Get started today!
Our award winning team is ready to help you take your practice to the next level.
OMNI Premier is a full-service digital marketing agency providing top-notch SEO, content, pay-per-click (PPC), and social media management for medical professionals. We are an award-winning team of certified Google Partners with over 30 years of combined experience helping plastic surgeons attract more new patients to their practice. Our unique approach has helped numerous practice owners increase revenues by efficiently utilizing their marketing budgets. Contact our team for a free marketing consultation today.
Stop Losing Patients and
Grow Your Practice Today
"OMNI Premier Marketing is the best! Patrick and his very creative team are super responsive, friendly, patient, and professional I wouldn't trust my website with anyone else. From start to finish, they always make me feel like a priority. Thank you, Patrick, and your staff, for all you've done for us. We look forward to working with you for many more years."
– Richard Lehman MD
U.S. Center for Sports Medicine


[omniblogs]