Search Engine Optimization Services
Our search engine optimization services improve the visibility of your website for organic search results
Best SEO Practices for
the Best Results
Having responsive website design for your practice will not only make your website stand out to visitors, but it will also stand out to Google. Your site needs to be lightweight and load extremely fast. If your website lacks any of Google's SEO best practice suggestions, either from poor architecture or development, optimizing your website will be like pushing a boulder uphill.
We Deliver High Rank Requirements
Your on-site marketing strategy needs to adhere to Google's best practices. Our search engine optimization services include optimizing the internal structural elements of your healthcare website to make it search engine friendly. This includes on-site elements such as the site architecture, code, internal link structure, images and navigation, page titles, and meta descriptions.
Promoting your health care practice website externally through other high-traffic, well-respected websites is an important step in creating a quality, trustworthy presence for your health care practice website. Being a trusted resource online, you can capture high search rankings and drive qualified, targeted traffic to your practice. This expands your reach, helps build your brand, and improves Local SEO.
The more content you have, the better. The more relevant your content is to the terms people use to find your services, the easier it is to rank. "Black hat" tactics, though, will not help you rank well within Google's search engine; stuffing your content with keywords unnecessarily can actually hurt you. When content will help your website receive great rankings, we will let you know. If you have the time and desire to write your own content, great! If not, we have a highly trained expert team of content creators who will create content you love.
Over the years, many medical and dental SEO companies have used third-party websites to buy low-quality links to their clients' sites. We never buy spammy "black-hat" links. Link-building is more valuable now than ever before, but it needs to be done correctly. Our team of link-builders is constantly researching and uncovering link opportunities for your website. Once we have discovered link opportunities, we contact the site owner we want a link from and offer them a guest-posting opportunity. Doing so will bring a high-quality, natural link to your website.
Help Patients
Find Your Practice
We actively promote your website in all of the reputable online directories, local search engines, and local business directories. We also create a broad social presence for your practice while actively promoting it through various local business directories. It's impossible to predict your exact rankings due to the ever-changing variables of search engine algorithms. However, our marketing specialists have an extraordinary success rate in achieving front-page rankings for our clients in a wide variety of medical industries.
We believe strongly in having the right plan and executing it without fail. We will gladly share our results with your office and celebrate earning high rankings for your most valuable keywords.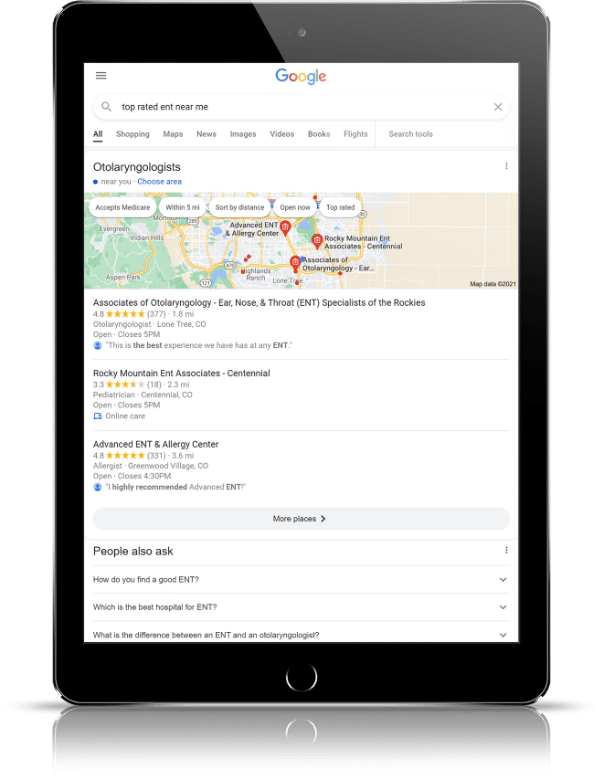 Expert SEO to
Grow Your Practice
In general, the higher the ranking on the search results, the more traffic from the search engine's users. Our approach to SEO maximizes a website's potential to rank for the most valuable search terms related to the products and services you offer.
Over the last few years, many plastic surgeons, dentists, and other medical practices have contacted OMNI Premier Marketing after experiencing huge drops in website traffic. Often, these problems are due to unethical methods and dangerous techniques used by SEO companies. Our search engine optimization services ensure that never happens.
Regardless of the practice specialty, we deliver on our commitment to positive results!
Join the list of successful healthcare providers that work with OMNI Premier Marketing.