OUR MISSION
We don't just love marketing; we care about your success.
OUR EXPERTISE
We'll Put Your Practice In Front of More Patients Than Ever Before
Book A Strategy Session
Taking dramatic action is the best way to ensure success. Take the first step and sign up for a strategy session right now.
Choose the Program That's Right For You
After our strategy session, we provide you with a complete audit of your current website and create a plan to reach your goals.
Start Seeing More Patients
A consistent, dependable flow of new patients provides the foundation to allow you to scare and grow.
A Must-Read for All Dentists
Get the Book to Learn the Secrets of Digital Marketing for Dentists
Secure high-quality patients, bring in more revenue, have less staff turnover, and start living the life you've always dreamed of.
WHY CHOOSE US
The Right Dental Marketing Agency To Partner With
When looking for a marketing company, finding one specializing in dental marketing is crucial. Many companies claim to be experts in online marketing, but not all have the experience and knowledge necessary to create a successful dental marketing campaign.
A good dental marketing company will have a team of experienced professionals who understand how to market for dentists and who can develop a custom plan for your practice. If you want to thrive, you need a team that supports you in every aspect of your patient journey and works with you to develop a custom plan for you and your practice goals.
At Omni Premier Marketing, we understand that no two practices are the same. We take the time to get to know you and your team so that we can develop dental marketing solutions tailored to your unique needs.
Dental Specialists We Market
OUR EXPERTISE
Procedures We Help to Market
As a dental marketing company, we understand that each specialty requires a different marketing approach. We have a team of expert marketers who are well-versed in each respective field, and we can create custom marketing plans that will fit the needs of your dental practice.
Crowns and Same-Day Crowns
Find valuable new patients needing treatment now.
Dental Hygiene
Most patients find a new dentist by seeking cleanings and checkups.
Sleep Apnea
Increase revenue while bettering the lives of patients and your practice.
Boost your practice revenue while enhancing patient well-being.
Veneers
Game-changing high-value cases with high patient satisfaction.
Dental Implants
The right strategy properly executed is required to lead the market.
Filler and Spa Services
Converting injectable and spa patients to dental patients is simply genius.
Braces & Clear Aligners
Profitable with low chair time life-changing smiles from high net cases.
Cosmetic Specialty Procedures
"Search for Cosmetic dentistry" are typical of those willing to make a serious investment.
Include Local SEO for Your Dental Practice Growth
Your website is only part of your online presence. We will help you navigate the often-confusing world of online directories and review sites. These are essential for growing your practice as potential patients use them to find local businesses. We will ensure that your business is visible on all the major directories and that your reviews and ratings are positive.
Search Engine Optimization (SEO) is an ongoing process, and keeping your website up-to-date is essential to ensure you are getting the most out of your investment. We will work with you continuously to monitor your SEO progress and make changes as needed. Reviewing your analytics regularly will help us track your SEO success and adjust our approach as needed.
SEO is complex, but we will work with you to optimize your website for maximum visibility. Let us help you grow your practice with the best local SEO strategies.
The Right Dental Marketing Plan To Support Your Growth Plan
Your dental marketing plan is a strategic document that should outline the goals, strategies, tactics, and budget for a marketing campaign. The plan should consider your dental practice's unique needs, including your target audience, budget, and objectives. By developing a comprehensive marketing plan, you can save money and increase your chances of success.
When you have a strategic plan for marketing your dental practice, you can expect to see actual results that impact your bottom line. You will no longer have to rely on luck or hope your marketing efforts will pay off. With a clear plan and measurable goals, you can track your progress and adjust your course as needed to ensure continued success. Stop wasting time and money on marketing guessing games – invest in your dental practice with a solid strategic marketing plan today. Evaluate your website, SEO, social media, online reviews, and more with a plan that keeps your goals in mind.
Learn How To Grow Your Dental Practice
There are many digital marketing agencies out there that claim to be able to help grow your dental practice. But with so many options, how do you know which is right for you? Here are a few things to look for when choosing a digital marketing agency to help grow your dental practice:
Step 1
Look for a dental marketing agency with experience in the dental industry.
Omni Premier Marketing understands the unique challenges and opportunities of marketing a dental practice that will be better equipped to help you grow your business. We have a track record of success in growing other dental practices.
Step 2
Make sure the agency offers a full suite of services.
The best digital marketing agencies will offer a complete package of services that can help you reach your goals. Omni Premier Marketing provides:
Website design and development
SEO
Social media marketing
Pay-per-click advertising
Step 3
Make sure the agency has a team of experts
Our team consists of various skilled pros who can help you grow your dental practice by being specialists in their field. Consist of designers, developers, copywriters, and marketing experts with a wealth of experience & knowledge about the dental industry.
Create a Custom Dental Practice Website
Your website should be designed with your patients in mind. We will work with you to ensure that your website is easy to navigate and understand so that potential patients can find the information they need without any difficulty. Our team of developers and designers will create a visually appealing and functional website so that your patients can easily find the information they need and make appointments with your practice.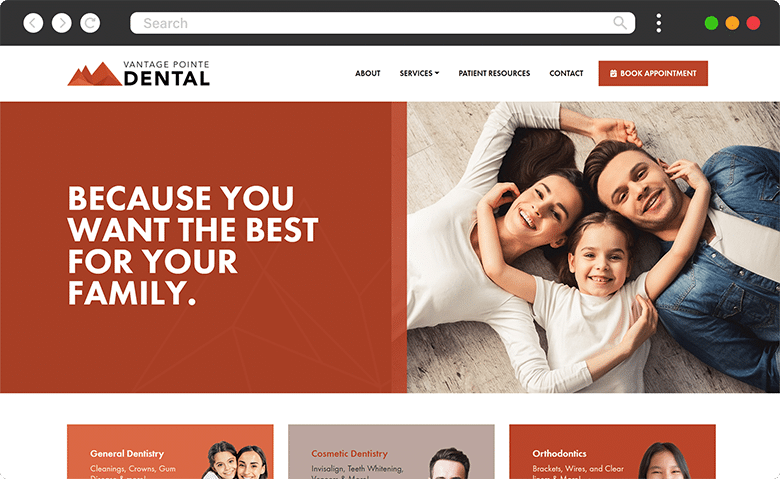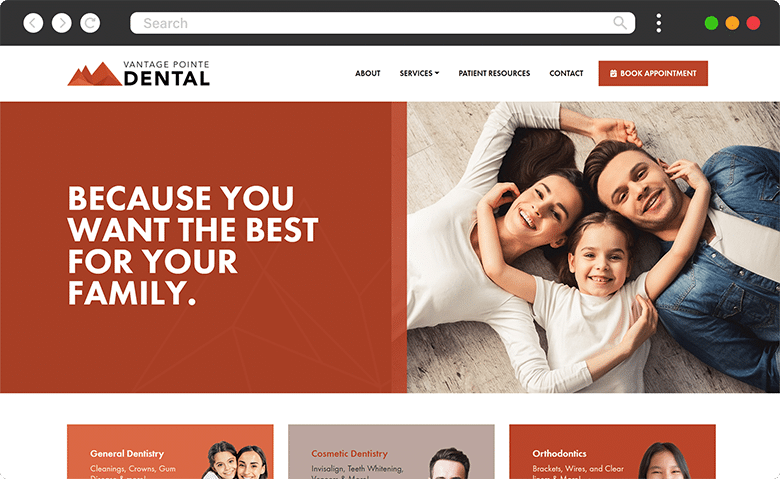 Our Dental Website Design Team
When it comes to your dental website, you want it to be the best it can be. Our team of experts can help you achieve this by providing the best design, user experience, and performance for your site.
We understand that your dental website design is the cornerstone of your online presence, which is why we take a comprehensive approach to developing it.
A well-designed dental website from our team will:
Help you attract new patients
Communicate your brand identity
Improve patient retention rates
Increase patient trust and reliance
Promote services and education
If you're looking for a dental website that will help you achieve all of the above, we can help. Our team has extensive experience in developing dental websites that deliver results.
Our Dental SEO and Local Results Experts
You've heard that you need to be doing SEO, but where do you start? We're experts in the dental field, providing all the best when it comes to on-site and local SEO.
Your SEO campaign should cover your website marketing, organic search result rankings, and your local rankings in map results. As a dental practice, showing up in local maps results is key for garnering the attention of potential patients.
We are extremely well-versed in local dental SEO strategies that get results. Content is key to driving traffic back to your site, and we will ensure we are developing content that improves your ranking. Your campaign will put you in front of more local patients than ever, which means continued growth for your practice.
Pay-Per-Click Marketing For Dentists
OMNI Premier Marketing is a Google Certified Partner for dental pay-per-click (PPC) advertising. We provide customized strategies for PPC marketing, and our marketing experts will ensure you get the best return on your investment. Target the patients you actually want to see in your practice and start booking appointments!
PPC is an online advertising model where advertisers can display ads on search engines and pay when users click them. Advertisers bid on keywords that they think users will search for when they are looking for dental services. When a user types in one of those keywords, the advertiser's ad appears in the search results. The advertiser then pays the search engine a fee whenever their ad is clicked.
There are many reasons to use PPC as part of your marketing strategy. First, it's an effective way to reach potential patients already interested in dental services. Second, you only pay when someone clicks on your ad, so you're only paying for leads that are interested in your practice. Third, you can target your ads to specific demographics, locations, and times of the day. And finally, PPC is a great way to track your marketing results to see which campaigns work and adjust your strategy accordingly.
If You Need Help With Your Dental Marketing, We Can Offer Custom Solutions Tailored To Your Specific Needs.
Contact Us Today to Learn More!
Dental Reputation Management
As a dental professional, your online reputation is as vital as your real-world reputation. Many patients will research you online before they ever step foot in your office. That's why taking control of your online reputation is essential and ensuring you're putting your best foot forward. Your online reputation directly affects your marketing. It is a known ranking factor on Google and influences how patients choose which dental practice to visit.
By taking these simple steps, you can take control of your online reputation and ensure you're putting your best foot forward. Stand out from the other practices in your area by gaining social proof of your excellent services! We offer the best tools to help you manage your online reputation and grow your 5-star reviews quickly.
Pay attention to patient reviews.
What are people saying about you online? Are they generally positive or negative? If you see more negative than positive reviews, take steps to address the issue.
Don't be afraid to ask for reviews.
You can't improve your reputation if you don't know what people say about you. Reach out to your patients and ask them to leave a review so you can gauge what is working and what isn't.
Ensure your website and social media profiles are up-to-date and professional.
First impressions matter; you want potential patients to see you're a credible dental professional.
Your Practice Deserves The Best Dental Marketing
When it comes to dental marketing, you need a team that knows the industry inside and out. OMNI Premier Marketing is the best in helping dentists grow their practices and reach their target audiences. We offer high-quality websites, content, SEO, PPC, social media, and more to help you get the most out of your marketing efforts.
Get started today with our award-winning team and take your dental practice to the next level of success.
Let Us Help You Be More Successful
A strong online presence is essential for any business these days, but it can be challenging for dental practices. There's much competition out there, and standing out from the crowd can be difficult. That's where we come in. We're a team of dental marketing experts who know how to get your practice noticed online.
The beauty of working with a full-service dental marketing agency is that we handle all the heavy lifting for you. All you have to do is show up and be ready to see your practice grow. If you're prepared to take your dental marketing to the next level, we'd love to chat about how we can help. Contact us today to get started.
Omni Premier Marketing helped me grow from zero patients to over a thousand patients today!
Dr. Martha Ha
Clear Dental Studio