OUR MISSION
We don't just love marketing, we care about your success.
Marketing That Drives Your Medical Practice Growth
When it comes to marketing your medical practice, finding the right partners makes all the difference in your results. We provide top-tier custom marketing strategies to meet all your needs under one roof and help your medical practice see real growth.
Why Choose Us
Medical Website Marketing
Your website is central to an excellent healthcare digital marketing strategy.
Stop losing patients because of a confusing, dated website! Our websites for medical practices stand above the rest with compelling designs, expansive features, and effective landing pages.
At OMNI Premier Marketing, we offer everything you need to create an excellent online experience for potential patients.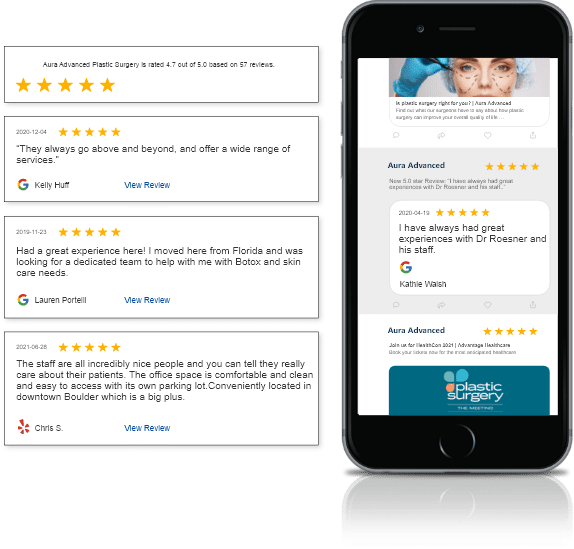 Why Choose Us
Reputation Management for Doctors
Send weekly, automated patient surveys from your Practice Portal to your patients to boost your healthcare reputation.
Superior Medical Website Design
Your medical website design is the center of all your marketing efforts. In today's world, it's the first impression of your practice that any potential patient sees. Not only will it affect the performance of all your digital marketing efforts, but it's the best way to show off your excellent services.
Our process begins with a marketing plan consultation and website mock-ups to help you find the best fit for your needs. Our world-class designers have experience designing for medical offices, so you can be sure we'll get you started on the right foot. We ensure your website performs well, converts, and informs visitors about your providers, services, and practice.
Don't let your website fall short! Let us help you pave the way for a strong marketing strategy across all platforms, starting with excellent website design.
SEO For Medical Practices and Doctors
SEO helps your medical practice appear in search results, and our medical marketing experts can help you get there. We want to help you rank for primary keywords that potential patients in your area are searching for and get your website and medical practice in front of as many people as possible.
Our healthcare marketing experts provide SEO for your medical website and SEO that affects your practice off of your website on major listings like Google My Business. This ensures your audience sees you wherever they search for a new provider.
Don't settle for anything less than a full-service SEO strategy for your medical practice. Let us show you how we can contribute to real growth in your practice through exceptional SEO and local SEO marketing.
Your Google Certified Ad Partner
It's no secret that investing in online advertising can bring you new patients, but only when it's done the right way for your practice. OMNI Premier Marketing is a Google Certified Partner in advertising. We don't settle for anything less than exceptional ad performance for your campaigns!
Our team provides a customized advertising campaign for your medical practice to fit your needs and rise above the local competition. We know how to get results for medical practice advertising and want to help you get there.
Only The Best For Your Medical Marketing Strategy
Are you ready to see growth in your medical practice from your marketing dollars?
Let the experts at OMNI Premier Marketing show you how our custom solutions, top-tier websites, and informed marketing strategies make a difference!