Marketing Your Dental Practice With A Google Business Profile
Claiming your dental practice's Google Business Profile is crucial for your dental practice's success. Google Business Profile is a free listing tool that enables you to promote your website & supercharge your dental marketing on Google Search Results and Google Maps.
According to Google's research, Customers are 70% more likely to visit and 50% more likely to consider purchasing from businesses with a complete Business Profile.
You can use your Google Business Profile to:
See and communicate with your customers
Edit your Business Profile
Tack how customers interact with your business on Google
You'll also need a Business Profile account for analytics, ad management, and other dental marketing chores. That is why it is critical to put it up!
What Is A Google Business Profile?
You've probably seen a Google Business Profile Listing if you've ever searched for something on Google and seen a panel similar to this on the right-hand side of the search results page. It appears as follows:
How To Claim Your Google Business Profile: Step-By-Step
Before Getting Started
Don't worry if you don't have a Google Business Profile listing. As dental marketing experts, we're here to make the procedure as painless as possible as. Let's have a look at your Google Business Profile listings before we get started. Before we start claiming and upgrading, we need to perform some investigation.
We'll start by searching for the following to see whether you already have a Google Business Profile account or if your business has already been claimed by someone else.
Our Dental Marketing Specialists have created a video tutorial below to help you Claim your Dental Practice's Google Business Profile or Request Access from an Existing Google Business Profile:
Video Tutorial
Step 1
Sign in to business.google.com with the email address you want connected with your Google Business Profile listing. If you frequently use several Gmail accounts, you should do it in an incognito browser session to avoid problems with multi-account logins. By clicking the three vertical dots in the top right corner of your screen, you may open an incognito tab on Google.
Step 2
Type in your office name. If your office name shows up in the dropdown, you will be allowed to claim your listing.
You will receive a phone call or a postcard once you have claimed your ad. Postcards usually take 5-7 days to arrive. If you request the postcard and it does not arrive after 14 days (or the code does not work), you can contact business support for assistance in getting verified. The system will then follow your postcard request and provide you the option of speaking with a Google official directly to ensure that you receive the verification code. You can skip to step 9 once your firm has been verified.
Are you unable to locate your company? Start by typing your Dental Practice's name in the "Add your business to Google" box.
Step 3
After that, you'll be prompted to select a business category. Enter "Dentist" in the search box (or if you are another specialty, type that specialty). Make your statement as specific as possible. If you're a specialist like an orthodontist, implant provider, or cosmetic dentist, you may want to be more specific with your category than a general practitioner, dentist, or dentistry clinic.
Your business's categories are used to describe it and connect you with clients looking for the services you provide. For example, if your major category is "Cosmetic," Google may list your business in local search results for consumers searching in their area for "Dentist," "Teeth Whitening," or "Dental Implants." This is why it's crucial to choose your elementary and secondary schools carefully.
Now, before you go wild and choose every category in the hopes of getting more results, take a step back. It's vital not to include too many categories here because this will lower your overall score in a potential customer's Google search for businesses that do what you do for each specific category. In this case, less is more, so be as clear as possible.
Step 4
"Do you wish to add a location where clients can visit, such as a store or an office?" comes the next inquiry. This indicates that you have a physical location. You must respond "Yes" to this question.
Step 5
Your address will now be requested. It's critical to be as specific as possible when entering your address, as this aids Google in optimizing search results. This covers suite numbers as well. We don't want to start this process off on the wrong foot, so double-check, triple-check, and double-check again to ensure that this information is correct.
Step 6
"Do you also serve consumers outside of this location?" comes the next question. Answer "No," because your patients come to your office to see you.
Step 7
Enter the phone number for your dental practice as well as the URL for your office's website. Make certain that this information is correct!
Step 8
After finishing Step 7, you'll call or send a postcard to confirm your listing. If you have no other choice, a postcard will take 5-7 business days to arrive. If you request the postcard and it does not arrive after 14 days (or the code does not work), you can contact business support for assistance in getting verified.
Step 9
After you've claimed your company, you may start optimizing your listing. Let's go over the most crucial things to know about your Google Business Profile dashboard while we're at it.
Step 10
The final step is to add users to the system. Add a dental marketing agency to your listing if you have one. The information it offers will be useful in the agency's reporting and in assisting you in making strategic decisions.
Why Are "Google Business Profile Listings" Important for Marketing?
One of the most powerful tools in any local business growth strategy is your Google Business Profile listing. It's extremely crucial for dentists, which is why we prioritize it in our dental marketing plan for all of our clients.
Google Business Profile is also faster and less expensive than SEO and paid search advertising, not to mention easier. As a dental office, it's important to be visible online as much as possible; and a GMB listing can assist with that!
Marketing Solutions: Want to save time and money & focus on running your practice? Discover our dental marketing solutions.
Your Google Business Profile Gets Higher Traffic Than Your Website
Maintaining excellent internet traffic, which in turn brings foot traffic to local dentist offices, is a difficulty that all local dentist offices encounter. According to Google, more than 30% of all mobile searches are related to location.
Dental Office Google Business Profiles on Google Maps
Google maps is a terrific way to reach your audience, with over 150 million unique users per month in the United States alone. Most significantly, it enables people to know how close you are to their position in real time. This improves the likelihood of their paying your dental practice a visit. According to Google, 30% of all mobile searches are related to location.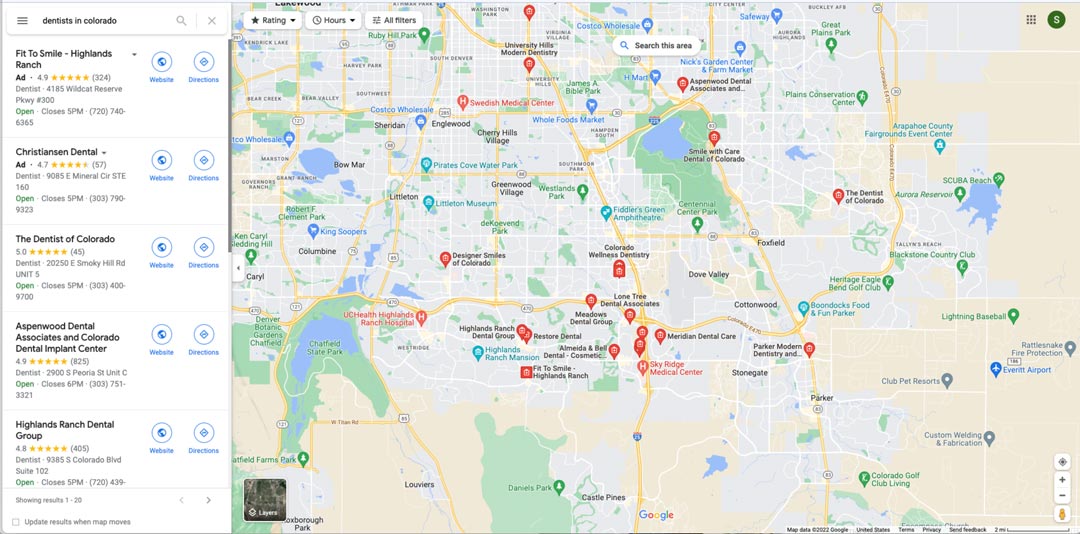 Google Business Profile Reviews
Consumers are 2.7 times more likely to view businesses listed on Google to be reputable. If a potential patient conducts a Google search for a dental clinic and finds yours, they are more inclined to trust your brand because they can verify your facts. This is also why it's critical to include photos and other information in your profile, but we'll get to that later.

Patients Reviews Are a Key Component of Your Google Business Profile Marketing
Word-of-mouth reviews and recommendations have long been a staple of dental marketing. It's possible that online reviews will determine whether a potential patient chooses you or your competitor. According to recent research, reviews produce an 18% uplift in sales on average.
Customers can review your business and provide feedback for others to see if you have a Google Business Profile listing. This is a fantastic approach to communicate with current patients while also establishing a trustworthy internet presence for your dental practice.
We assist our clients in getting OMNI Automated Review Tool up and running. The OMNI Automated Review Tool is a marketing tool that will assist you in generating online reviews and feedback as well as advertising your local business online by leveraging your reputation.
Recommended: Want to learn how to respond to dental reviews? Find out how and get dental review response templates!
Dental Business Insights on Your Google Business Profile
Many dental marketing methods can assist in attracting new patients to your dental practice. This one, on the other hand, teaches you about your target audience. Navigating to the "Insights" section of your Google Business Profile will provide you with a variety of useful information that break down how prominent your brand is, which clients you should target, and how they're engaging with your business.
About Google Business Profile Panels
Home Panel
The main area, also known as the home page, is where you may see a summary of what's going on with your company's listing. This is where you can look at the most current customer images, check on your overall Google listing performance, respond to reviews, and manage your postings.
Recommended: Learn 10 Ways To Grow Your Practice!
Posts Panel
You can create posts for your listing in this section. These posts will appear beneath your Google listing and are an excellent opportunity to interact with current and new patients. Posts enable you to publish fresh or interesting information, such as special discounts, featured products, and forthcoming events.
To maximize your postings, it's a good idea to list the services you provide here. You should always include an image in your postings and keep the matter intriguing and relevant to your business. To maintain your listing optimal, switch up these posts on a weekly basis.
Info Panel
The info panel is where you may edit the information for your local business. We recommend doing this now, while you're still busy setting up your listing, and double-checking the details line-by-line. This comprises information such as a person's name, address, and phone number, as well as website URLs and business features.
You can make changes to your company description here. If you haven't already, you should add your business categories. You may also keep potential patients informed by updating your company hours during holidays and long weekends.
Users will frequently look for a local business' holiday schedule on Google, so maintain this information up to current to promote trust. In this part, you should also list your services. To add your service categories, use the additional services table provided above.
This is crucial because it improves both your listing's exposure on desktop searches and its visibility in voice search inquiries when customers utilize devices like Alexa or Google Home.
Set Your Opening Date
To let customers know when your business originally opened or will open, include an opening date in your Business Profile.
Google analyzes a variety of sources to figure out how long a company has been in business. If the merchant believes there has been an error, the proper opening date can be established.
Only your opening date's year and month are necessary. You can input a date up to a year in the future, but Google will not display it until 90 days before the date.
Give Your Description a Personal Touch
Make your business description honest, personal, and engaging when writing it. Your firm is more than simply a business; it's your customer's story. Make sure your description fits our business description criteria while writing it.
Insights Panel
For your dental practice, online data is critical. You can utilize this information to figure out what's working and what isn't, which will help you attract more patients in the long run. The insights panel is a really useful and free tool for seeing how your company is performing in terms of searches and viewers.
Reviews Panel
Before visiting a business, 63.3 percent of shoppers said they will read online reviews on Google. Past patients' evaluations about your practice are referred to as reviews. Your company's reputation may make or break it. That is why they are crucial.
Negative reviews drive clients away, therefore it's critical to keep an eye on them and respond quickly. Your reviews will be sorted into three categories: most recent, reviews you've responded to, and reviews you haven't responded to. The reviewer will be notified when you react to a review. Here are some suggestions from the PFDM team if you get a poor review.
Recommended: Want to learn how to respond to dental reviews? Find out how & download our dental review response templates.
Messages Panel
You may easily communicate directly with customers through Google Business Profile. You can react to any direct messages or questions from potential clients using GMB's messaging tool. Messaging is also available through the GMB app, which is available for download for free on mobile devices.
Photos Panel
Keep in mind that dentistry marketing, like all marketing, is mostly visual. Images and videos will aid in the visibility of your practice listing. You can manage these directly from the photo panel, where you can see all of the content that customers have uploaded, as well as how many times each photo or video has been viewed.
Make sure your cover photo is one you like and your logo is in decent form when adding photos. Then, if you have any extra photographs or videos (under a minute) to show off your practice, include them here.
As previously stated, potential customers will be more inclined to trust your brand if they can see pictures of your practice, before and after smiles from existing patients, and group shots of your dental team to validate your facts.
Updating Your Dental Practice's Google Business Profile
The most crucial thing to do if you already have a Google Business Profile account is to double-check that your information is correct. Our dental marketing experts will rely heavily on having the correct address, hours, website, and other business information, as well as the suitable category configured, practice images and videos, and positive reviews.
Consider this: the more you know about a friend, the more you trust them, right? This is how Google should be viewed. The more information you supply, the more Google's algorithm will trust and support you. And if Google "likes" you, you'll appear higher in its Search and Maps results. Step 9 can now be skipped.
You did an excellent job! The process of claiming and improving your Google Business Profile listing is now complete. That's the first step toward ensuring that your local patients can find you on the internet.
Get Assistance from Dental Marketing Professionals
Do you want to expand your dental practice's reach and bring in new patients? Your marketing efforts can be even more effective with the help of our dental marketing experts. (Plus, we'll take care of everything!) To learn more about our services, please contact us today.