After extensive collaboration and hard work, Omni Premier Marketing is proud to announce the launch of Broomfield Pediatrics' (formerly Broomfield Pediatrics & Internal Medicine) new pediatric website! You can view the revamped website at https://broomfieldpediatrics.com/. Broomfield Pediatrics is a dedicated practice with a common passion for providing exceptional service to the children of "tomorrow's future".
The goal of the new website
The goal of the new website is to blend the mission and quality of service that Broomfield Pediatrics offers with a new, updated look. Together, the new site augments the user experience of navigating information, scheduling appointments, getting in touch with providers and the message that makes Broomfield Pediatrics a trusted healthcare provider for over 20 years.
What's New?
Overall Design Aesthetic
Websites are often the first impression a client has of your website before visiting your brick and mortar location. Whether it's the color scheme, the font, or the layout, having a web design that augments the message of your practice, while maintaining functionality for mobile and desktop users, is crucial for perfecting how your online presence is received by your target audience. The best medical web design will not only keep viewers engaged with your content but will also increase the probability of converting them into lifelong customers.
Before
After
ADA Compliance
The Americans with Disabilities Act (ADA) is a law enacted in 1990 that protects individuals from discrimination based on disability. The law mandates that all "places of public accommodation" (including your website) are required to remove all barriers that would impede access to your goods and services simply because of a person's disability. An estimated 48.9 million people, or roughly 20% of the U.S. population, have a visual, audial, or physical disability that creates challenges when accessing a noncompliant website. Broomfield Pediatrics' brand new Accessibility Menu underpins their commitment to patients with special needs.
Interactive Service Menu
Broomfield Pediatrics offers a wide array of services for patients and their parents. A straightforward service menu makes important information and resources easily obtainable.
Photo Gallery
Photo galleries are a visual way to display important information. Broomfield Pediatrics has amazing patients, staff members and special events that we couldn't wait to promote. Their new gallery will feature the very best parts of their practice as well as make a lasting impression on viewers.
Site Speed
Did you know that 53% of mobile users will abandon a website if it doesn't load within 3 seconds according to a recent study by Google? This is why Google has named site speed as a key indicator in its page ranking algorithm. In keeping up with SEO best practices, we've improved Broomfield Pediatric's site speed from 67 to 82. As we monitor and modify their new website, this score will continue to improve along with their search engine ranking and their users' overall experience.
Before
After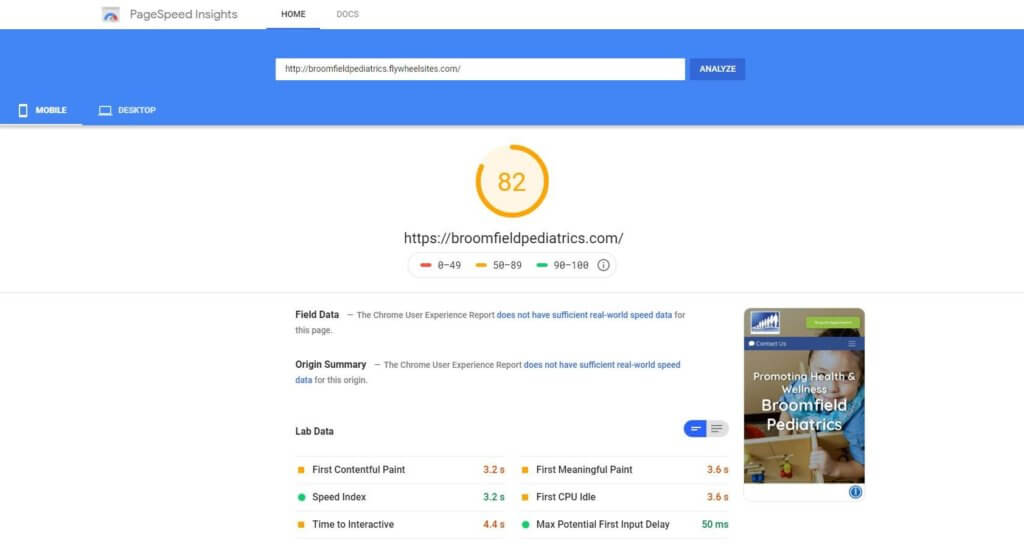 Request Appointment Forms & Contact Forms
Contact forms are a way to encourage engagement on your website while making the appointment booking process simple and easy.
Helpful Tip: Forms like these are a great way to collect important information (names, phone numbers, and addresses) from current and potential clients. Having this on hand is a great way to build a database to promote campaigns, newsletters, promotions, etc.
Review & Feedback Platforms
Patient feedback is a vital tool in improving the overall experience of your practice as well as acknowledging your day-to-day successes. Reviews account for 15% of the Search Ranking Factors and are continuing to rise in importance every year. When people see how much others love your business, they'll be much more likely to book an appointment with you as well; reviews lead to conversions.
Helpful Tip: Add Keywords into your review responses to give your SEO an extra boost!
Updates Bios and Team Photos
Trusting your healthcare provider is much easier when you can put a face and biography to the name. Before even stepping foot into the practice, patients can rest assured that the providers at Broomfield Pediatrics are qualified and dedicated to the wellbeing of the children they treat every day. First impressions are important, and team photos provide an opportunity to showcase a practice's personality.
Conclusion
We are extremely proud and excited about our new partnership with Broomfield Pediatrics. We hope you enjoy the fresh new look and feel of the Broomfield Pediatrics website! This is just one step, of many, on their marketing journey to success.
For more information about how you can revolutionize your medical and dental marketing strategy, give us a call at (720) 549-9222